Auch wenn man den Tag nicht vor dem Abend loben sollte, so macht es doch wieder Spaß, wenn ich auf den Kursticker blicke:
1. Leoni hat den Ausbruch nach oben geschafft und wird weiter gekauft. Das ist insofern bemerkenswert, als dass in den letzten Monaten fast alle neuen Hochs abverkauft worden sind. Nun gelingt es vielen Werten, wieder nach oben durchzustarten.
Im Power Trend Depot (seit 29. Juni Bestandteil des Internationalen Trend Trading Depots) notiert das Hebel Long Zertifikat auf die Leoni-Aktie nun über 42% im Plus.
2. Letzte Woche hatte ich mir meine Gedanken zum Agrarsektor gemacht und daraufhin am Freitag kurz nach der Eröffnung der US-Börsen Monsanto gekauft.
https://www.aktientagebuchblog.de/da-kommt-bewegung-rein.html
Seitdem steigt die Aktie kräftig an.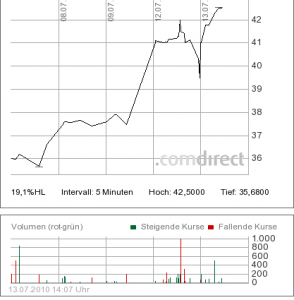 Das sieht ganz nach einem Trendwechsel für die Aktie aus, die seit Januar 40% gefallen ist:
"In Monsanto's last downcycle in 2002, conditions were earily similar to today," Juvekar wrote. "Roundup had just gone off patent and prices had collapsed, slashing company profits. New pipeline traits like corn rootworm and stacked traits looked promising, but weren't yet contributing to the bottom-line. Farmers were upset at Monsanto because it had kept … prices too high. Incidentally, Monsanto was also being investigated by the Department of Justice, similar to today." (Quelle und weitere Informationen auf http://www.thestreet.com/story/10804239/1/citi-upgrades-monsanto-to-buy.html?puc=_tscrss )
Derartige Trades können unter Umständen hohe Gewinne einbringen, wenn die Nachrichtenlage  einen Turn Around signalisiert.