Am 21. April 2009 stieß ich bei meinen Recherchen auf diese Aktie.
Ich schrieb in mein Tagebuch:
"Daran kann es nicht gelegen haben
Heute konnte man stundenlang nicht über das T-mobile-Netz lelefonieren. An der Sicherheitssoftware dieser Firma soll es aber nicht gelegen haben. Neben T-mobile zählen u.a. auch Research in Motion, BP,Shell, Siemens, BMW oder die Universität von Tennessee zu den Kunden von Arcsight. Die Aktie von Arcsight konnte heute erneut ein neues Jahres- und damit Allzeithoch erklimmen. Da der Wert erst seit einem Jahr an der Börse gelistet ist, muss man immer noch mit einer gewissen "Trendunsicherheit" leben. Derartige "Newcomer" zähle ich generell zu den sehr spekulativen Investments. Aber wer träumt nicht davon, eine potenzielle Microsoft quasi von Anfang an im Depot zu haben?
Da wir in äußerst unsicheren Zeiten leben, gehören Sicherheitssoftware-Anbieter auch im derzeitigen Börsenumfeld zu den trendstärksten Werten.
Die Meldungen, wonach Hacker selbst in wichtige Bereiche der US-Infrastruktur eingedrungen sind, sorgten für Aufsehen:
Hackerangriff auf Stromnetze
Computerhacker aus China und Russland sind offenbar im vergangenen Jahr mehrfach in Stromnetze der USA eingedrungen. In den Computernetzen der Stromanbieter haben sie kleine Programme hinterlassen, die im Krisenfall aktiviert werden könnten.
So berichtete die US-Zeitung "Wall Street Journal":
"Es seien Programme installiert worden, mit dem Ziel, die Netze zu stören. Ein konkreter Schaden sei zunächst nicht festgestellt worden. Sie hätten nicht versucht, die Infrastruktur zu beschädigen, könnten dies jedoch in einem Krisen- oder Kriegsfall versuchen. Die Zeitung beruft sich auf Geheimdienstinformationen und anonyme Vertreter des Heimatschutzministeriums."
Weiter unter: http://www.manager-magazin.de/it/artikel/0,2828,618339,00.html
Die Sicherheits-Lösungen von Arcsight sollten also auch in Zukunft nachgefragt werden.
Arcsight selbst sieht es so: "
"Monitoring critical cyber assets is essential to maintaining the security and reliability of the electrical grid," said Reed Henry, Senior Vice President of Marketing, ArcSight. "The NERC CIP standards are a good start, but a good start doesn't necessarily equate to being secure. Our customers are proactively protecting their systems by establishing baselines of what's normal, and then implementing continuous monitoring oversight to quickly identify systems that have been compromised. In these times when cyber spies clearly are targeting our utilities, world-class event monitoring and correlation is a necessary requirement to stop these threats and protect our critical infrastructure."
(Quelle: http://www.arcsight.com/press/release/arcsight-introduces-new-protection-suite-for-nerc-cip-compliance/)
Eine recht zuverlässige Einschätzung von US-Werten erhält man bei Zacks.com:
Die Zahlen von Arcsight wertet Zacks wie folgt:
"Revenue was up 31% from last year to $36.4 million. Net income more than doubled, coming in at $5.1 million. Earnings totaled 16 cents per share, blowing past the consensus estimate of 4 cents.
Estimates Move Higher
After the solid quarter, analysts went ahead and raised their earnings targets, with the current-year estimate climbing 11 cents to 23 cents per share. The next-year estimate is pegged at 32 cents, a 37% earnings growth projection.
(Quelle und mehr unter: http://www.zacks.com/newsroom/commentary/?id=10401)
Fazit: Diese sehr spekulative Trendaktie dürfte heute wohl noch lange nicht ihr Allzeithoch gesehen haben. Ob das so sicher ist wie die Arcsight-Software, kann ich jedoch nicht mir 100%iger Sicherheit einschätzen."Ende Tagebucheintrag vom 21.04.2009
http://aktientagebuch.blog.de/2009/04/21/daran-gelegen-5984026/
Heute wurde Arcsight nun von HP übernommen, der Kurs sprang auf ein neues Allzeithoch:
"Der Technologiekonzern Hewlett-Packard (ISIN US4282361033/ WKN 851301) setzt seine Wachstumsstrategie fort und verstärkt seine Position im Bereich Sicherheits-Software durch eine Akquisition. Unternehmensangaben zufolge will man den Softwarekonzern ArcSight (ISIN US0396661029/ WKN A0NCV0) für rund 1,5 Mrd. Dollar übernehmen. Den Aktionären von ArcSight werden 43,50 Dollar in bar je Aktie angeboten. Die Übernahme soll zum Ende des Kalenderjahres abgeschlossen sein. Hewlett-Packard legen kurz nach Handelsstart 0,4 Prozent zu. Für ArcSight geht es um rund 25 Prozent in die Höhe." (Quelle: Aktienceck.de)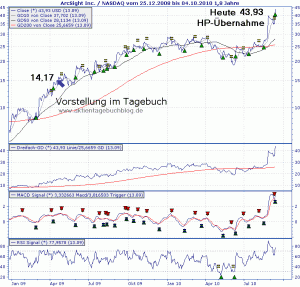 Meine "Restposition" werde ich behalten, vielleicht legt HP nochmals wie zuletzt bei 3PAR ein wenig nach, schließlich steht HP finanziell so gut da, dass man nicht mehr weiß, was man mit dem Geld machen soll. Der Rückkauf eigener Aktien kann nur eine Notlösung sein. Fazit: Wir dürfen noch mit einigen Übernahmen rechnen, den Unternehmen geht es gut, viel besser als es deren Aktienkurse vermuten lassen. Vielleicht trifft es ja demnächst NETAPP ?? Es scheint alles möglich zu sein.